Help

We have provided a frequently asked questions section below to assist you in using our web site.
Promotional Products
1. How do I shop for promotional products through your site?
To enter the promotional product solutions section of our web site, please click on the "promotional products" image to the right or click here. Once on the promo index page, you will notice our featured products showcased with a product index along the right side of the page. Click on an item name to display product for that item. When the resulting product options appear, click on a product image to view details about the corresponding product (may not be available for all products).
2. How do I place an order for promotional products?
Once you have browsed to get information and pricing about your desired product, please email us a purchase order to service@cmdesignsolutionsNOSPAM.com or call our toll free number
1-888-778-1131. Please remove "NOSPAM" from the email address prior to sending us an email. Thank you.
3. How long will my order take to be delivered?
Promotional product orders are generally delivered 7 to 20 business days after approved artwork. The delivery time will very depending on both the country and the area of the country to which the order is being delivered.
4. What types of payment do you accept?
We accept Visa, MasterCard and certified checks.
5. What can I do if I do not find the promotional product I desire on your web site?
The items listed in our web site is a small sample of the products we distribute. If you can not find your desired product on listed on our web site, please contact us at service@cmdesignsolutionsNOSPAM.com. Please provide the product name and/or item number in your e-mail and we will respond with a free quote. Please remove "NOSPAM" from the email address prior to sending us an email. Thank you.
6. What do I do if there is a problem with my order?
Please e-mail us at service@cmdesignsolutionsNOSPAM.com if you have any problem with your order. If the problem requires immediate assistance call our toll free line. Please remove "NOSPAM" from the email address prior to sending us an email. Thank you.
7. To what countries do you ship?
We currently serve Canada and the United States.
In the United States: Alaska, Arizona, Arkansas, California, Colorado, Connecticut, Delaware, District of Columbia, Florida, Georgia, Hawaii, Idaho, Illinois, Indiana, Iowa, Kansas, Kentucky, Louisiana, Maine, Maryland, Massachusetts, Michigan, Minnesota, Mississippi, Missouri, Montana, Nebraska, Nevada, New Hampshire, New Jersey, New Mexico, New York, North Carolina, North Dakota, Ohio, Oklahoma, Oregon, Pennsylvania, Rhode Island, South Carolina, South Dakota, Tennessee, Texas, Utah, Vermont, Virginia, Washington, West Virginia, Wisconsin, Wyoming
We offer hundreds of thousands of products including: Custom t-shirts, sweatshirts, hoodies, sweat pants, wicking shirts, compressed t-shirts, hats, caps, toques, scarves, gloves, bandanas, ponchos, aprons, scrubs, work clothes, work wear, fleece, bathrobes, pants, polar fleece, rainwear, tank tops, apparel, team jerseys, team uniforms, hockey jerseys, football jerseys, baseball jerseys, soccer jerseys, volleyball jerseys, basketball jerseys, lacrosse jerseys, running shirts & shorts, imprinted apparel, embroidery, screen printing, silk screening, twill crests, charity event t-shirts, golf shirts, golf hats, golf gifts, golf prizes, golf awards, golf balls, golf clubs, golf bags, golf shoe bags, golf towels, golf tees, golf umbrellas, golf tools, knives, awards, trophies, medals, corporate gifts, corporate apparel, corporate awards & crystal, promotional products, unique gifts, bags, luggage, back packs, briefcases, CD cases, computer bags, duffel bags, garment bags, sport bags, travel kits, tote bags, waist bags, waist packs, backpacks, wallets, bookmarks, calculators, conference items, lanyards, id cards, card holders, id holders, folders, envelopes, cases, portfolios, padfolios, planners, notebooks, notepads, paper cubes, clocks, computer accessories, usb flash memory sticks,frames, digital frames, computer mouse, mouse pads, letter openers, memo clips, paper weights, clipboards, pens, pencils, reading lights, auto accessories, bbq items, binoculars, blankets, chairs, dog tags, electronics, televisions, tv, radios, cameras, camcorders, 2 way radios, gps navigation systems, eye glasses, flashlights, games, puzzles, sport bottles, water bottles, time pieces, watches, jewelry, rings, wristbands, stress balls, thermos, coolers, lunch bags, umbrellas, business cards, business card holders, magnets, sticky notes, signs, brochures, buttons, cell phone items, coasters, carabineers, food items, candy, cookies, mints, nuts, chocolates, chocolate bars, popcorn, gift baskets, coffee, tea, health & beauty items, lip balm, hand sanitizer, antibacterial spray, first aid kits, key chains, kitchen items, lapel pins, coffee mugs, ceramic mugs, travel mugs, drinking glasses, shot glasses, beer mugs, beer steins, pilsners, napkins, ornaments, push pins, tattoos, wedding favors, balloons, zipper pulls, noise makers, bumper stickers, stickers, decals, labels, eco friendly products, recycled items, advertising specialty items, flags, flying discs, footballs, basketballs, soccer balls, whistles, yoyos, gift with purchase items, condoms, compressed t-shirts, imprinted apparel, T-shirts, trade show give away items, made in the USA items, made in Canada items and much much more!

CM Design: Promotional Products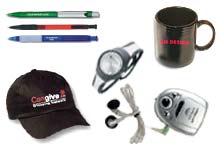 •We place your logo and/or slogan on promotional products such as T-shirts, sweatshirts, baseball hats, coffee mugs, bags, pens, watches, USB memory sticks and more! To find the ideal item for your business promotion, special event, charitable fundraising or wedding, please Click here.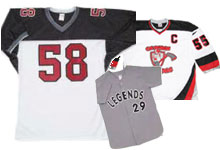 •We can meet all your custom team jersey requirements for: Hockey, Football, Soccer, Baseball, Volleyball, Basketball and Lacrosse! To find a solution for your team jersey needs, please Click here.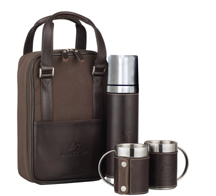 •Need samples or individual gifts?